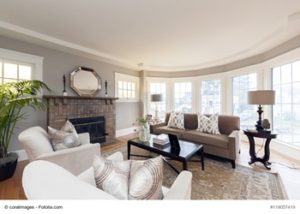 High-End on A Budget: Living Room Upgrades
Just because you're not rolling in the dough doesn't mean you can't have a luxurious living room with a theatre-like experience. Upgrade your living room with these high-end updates that won't break your bank:
If your home doesn't have a built-in fireplace you can still replicate the classic focal point with an electric fireplace. Whether you are looking for one with a stone mantle or framed in wood you'll have plenty of options to choose from no matter the size you need. The best part is these fireplaces are just as much functional as they are decorative and will keep you warm all winter long.
Here's an upgrade the whole family will love – a new television. If it's been a hot minute since you bought your television look for more up-to-date tech. A high definition and/or smart tv option will feel luxurious for certain. And of course, there is always the option to upgrade on size.
Install surround sound tv or a soundbar to bring your movie nights to a new level. Video games will feel more intense and movies immersive. With so many options on the market, it doesn't have to be a huge hit to the wallet. For a true high end look for options that can either easily hide or blend in well with your existing decor.
Create a sleek tv center with a cord hider kit for your wall-mounted television. While this involves a little bit of tool know how to safely drill into the wall, it can be a quick weekend project. Alternatively, there are kits that allow you to hide the cords in a shallow tube without breaking out any power tools. With this option, you will want to make sure you have the paint color of your walls on hand to paint the tube to match.
Frame your flat screen tv for a chic and unique look. You can DIY this upgrade with some crown molding for a completely custom product. You can also find many tv covers that are much like shutters for your television. When closed they look like a tidy cabinet display.
Add molding around a plain bookcase to bring depth and class to the piece. Molding allows you to easily create a built-in look for a large entertainment center or a window seat flanked by bookshelves. The final product is 100% unique and created for your families needs and preferences.
A coat of paint can make all the difference. Whether it be the walls or just your side tables. For a luxe, high-end look reach for neutrals. To make a statement a vibrant, pop of color will feel chic and stylish. Creating a radical color change can make you feel like you have a whole new room without changing out all your decor.