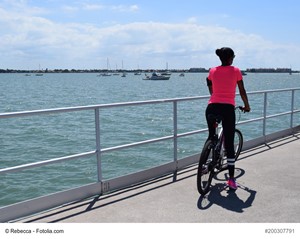 Florida is an Ideal Place to Pursue an Active Lifestyle
The environment you choose for your next home can have a major impact on your health and the quality of your lifestyle.
As more and more people are discovering, Florida offers a unique combination of recreational possibilities, cultural attractions, scenic beauty, and climatic conditions that are conducive to active, healthy lifestyles.
One aspect of living in Florida that makes it especially appealing to health-conscious people is the warm climate and natural environment. With hundreds of miles of sandy beach to enjoy, there are plenty of opportunities to soak up the scenery while walking, running, hiking, or playing outdoor games.
There are also countless places near the ocean to ride bicycles, go on nature walks, or just breathe in the invigorating sea air. Florida also has the distinction of having more golf courses than any other state in the nation — one of the reasons it's attractive to both tourists and year-round residents.
While not everyone is able to find the ideal beachfront home that meets their budget and other requirements, there are a surprising number of affordable properties within a short distance of the ocean. Whether you're in the market for a luxury Florida home on the water or something a little more economically priced, an experienced real estate agent can help you match your needs with the available homes on the market.
If you're searching for just the right home in Florida, it's always beneficial to create a priority list of features, qualities, and characteristics that are most important to you and your family. For many people pursuing an active lifestyle, proximity to the ocean, golf courses, and walking paths is highly desirable. Easy access to theme parks, shopping areas, nature preserves, and historic cities are also considered major benefits.
One common frustration many tourists encounter is a lack of time to squeeze in all the activities, experiences, and destinations available in different parts of the state. The beauty of owning property in Florida is that you have all the time in the world to check out attractions, schedule entertainment, and plan recreation. You can go about it in a leisurely way, and you often have the flexibility to take advantage of the best prices, times of day, traffic conditions, and crowds — or lack, thereof!
Living near the ocean, recreational spots, and other attractions is a lot like going on a permanent vacation — except without having to rush around and overschedule a limited amount of time. When you live in Florida, you can also skip the hassle of having to make airline reservations, suspend your mail delivery, arrange for pet care, pack and unpack a week's worth of clothing and supplies, and incur hotel or rental costs.
So if you love Florida, but don't like all the expenses, stress, and limited time of a Florida vacation, buying a home in Florida may be the ideal alternative! Whether you're an avid golfer, kayaker, boating enthusiast, or nature lover, the opportunities to pursue an active lifestyle are almost limitless!